Brand design is a pretty big undertaking. Super broad. It's everything about how our brand is perceived by others. Colours, fonts, images, writing style, dress... all these things and so much more roll up into a big ball of you-ness.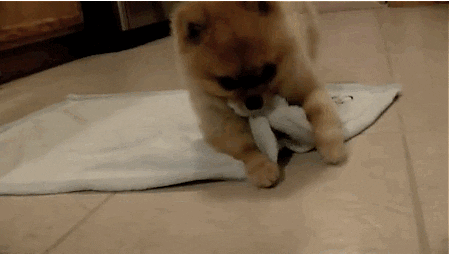 I totally hope you is a cute puppy.
Consistency = authenticity when it comes to your online presence. If you're all fluffballs and unicorns one day and doom kitties the next, people will wonder which one is the real you and question what they were doing in your sphere in the first place. Or maybe being inconsistent is your consistency and that's totally cool....
Either way,  the art of building a strong personal brand draws on the concepts of authenticity, excellence, and uniqueness. It celebrates and enhances the aspects of our image that make us who we want to be.
And when it comes to your branding photoshoot I care a lot about the visual stuff.
Why?
As a web designer it gets very same-y over someone's site if you have only one type of photo to work with. Consistency is good and all, but we don't want Steve Jobs' level of consistency. Boooooring.
Expectations? Met. Are we thrilled? Wait, is that a new iThing?
Now, we ostensibly know that your brand shoot happened on one day with the same photog, but we don't want to 'know' it. I mean to say, don't confirm my suspicions with photos which all look the same.
And then when you use these images for social media, you'll get more out of those images because you can spread them around without all your tiles looking the same.
Luckily, we're friends and I have a list of how to get the absolute best mileage from your photoshoot.
have at least two different settings
An office and a cafe. A studio and a park. Something casual, something formal. Something at work, something at play.
Try to have different background colours and features to break it up.
And if you're a shiny corporate, try and have an all white background done and get one with all of the top of your head showing - don't have the photographer crop you too close with a flat line chopping your head in half. A full view of you is really great for overlaying in presentations, in large website sections, and profile pics for social networks.
Creative types, make sure you validate your creativity with a well laid out studio. The stuff you use, have it about! Looking like it gets used, strewn about even. It's motion and life and it's important.
Which leads me to my next suggestion...
If you're a speaker, show yourself speaking. Even if your'e a a pulpit in front of no one in particular at the time. Can you go to a hotel/room and set it up?
If you're a painter, have the easel out and paint on your hands. If you're a real estate agent have a folder and shake hands with someone. If you're a designer pour over swatches and books.
Show your processes: how you take notes, make drawings, work on computers, sit in meetings, read books. May sound silly, but when you want to make that post about how you work with others or how you've read something which inspires you? Bingo, on brand profesh pic ready and waiting.
And when I come to build your pages I have an image which clearly explains to the reader you are who you say you are and you do those things you say you do. Look, see?
have at least two outfits in each setting
So that's at least four outfits. It could literally be just a scarf of change of jacket but it breaks up the images again. Just enough.
have a lackey to laugh with
The reader will imagine it is them and feel that connection. And it breaks up the looking-at-the-camera shots as well. Honestly, having someone to chat with does break it up. Doesn't it, Kesta (thank youuuu, legend!)
show what makes you different
Tattoos, piercings, the studio dog, your collection of elephants or a blinged out phone case. Those nuggets connect you to your ideal client; they will choose you because you reasonate with them. And they are the clients you will enjoy working with the most.
For me it is probably my Studio Manager, Radley... he totally ran riot over my shoot. Being 'helpful'. AKA punching me in the ear before licking my face.
Try and keep your outfit to your brand colours. The last thing you want is to have your pics totally clashing with your social media styling and web palette. Sad.
Don't wear fine stripes or neons. Both flare when they are edited.
Wear something with texture, it looks great in photos.
Clean your glasses. Greasy smudges show up.
Because at the end of the day, these images will convey to your readers the worth of your brand: great photography is one of the most effective ways to enhance your positioning as an expert and instantly connect with your readers or customers.
So, please, invest. Research. And communicate your brief well to your chosen lens.
I worked with Lisa and she is freaking awesome. Notice the nice, light background, floaty blouse with personality? Awesome choices!
Feel all empowered? I hope so!
If you have any other suggestions I'd love to know in the comments.